*HINT - Press "CTRL +" to enlarge text, or press "CTRL -" to shrink text. This works on all pages.*
Saddlebags
Will your saddlebags fit my bike, even though it's not listed? No. Our saddlebags are model specific. They are designed to fit each particular model tightly. Do you sell your racks separate? Not currently. Are there other shipping options? Yes. The price quoted through Paypal isn't always the least expensive. We can often times get better rates for both UPS and USPS. We would need credit card payment via phone vs Paypal.
Seats
Order Form Explained Step By Step (documents located on Seats page)
---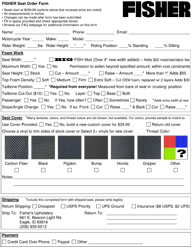 Name: Full name, preferably that on your credit card if it matches (if you're making payment over the phone) Phone: The best number to reach you at. We often call the same day as shipping, so it's important if you don't want shipping delayed. Email: Your email address you check most. Definitely check it while we have your seat. We may send a question after hours. Motorcycle year: What year your motorcycle is. If you're uncertain, they are often tagged at the front of the frame by the triple clamps. Motorcycle make: What brand your motorcycle is. Motorcycle model: The specific model you are having the seat built for. Example year/make/model - 2018 Suzuki DRZ400S Rider weight: An approximate weight you usually ride around at. This can include gear, but not necessary. A bit invasive, but necessary. Riding position: An average percentage of how often you stand up vs. sit down on typical rides. The two should add up to 100% hopefully. :) This will help us shape the front and back contours. Seat width: How wide you would like the seat. We recommend a 10" minimum for riders who sit down the majority of the time. BIG Fish Mod: Our standard width typically adds up to 4-5". This additional fee will allow up to 2-3" more. Maximum width: Check 'yes' if you'd like us to use any excess foam we have while shaping the seat. We will often pick up an extra 1/2" in width. For example, if we're building the seat to a desired 10" width and have an excess 1/2" to work with, it would end up 10 1/2". Seat height: How tall you would like your seat to be. Note: our softer top layer of foam is typically 1/2" taller than desired as it collapses easier. Raising a seat more than 1" will add a $50+ fee for materials/labor. Lowering a seat adds no additional fees. Top foam density: How soft you'd like the top to be. Riders 180lbs+ are usually equipped with medium foam. The 'extra soft' option will remove more OEM/stock foam and be replaced with a second layer of our foam. This is often a soft/medium combination adding $30. Tailbone position: A measurement (in inches) from the back of the seat to the back of your butt or tailbone while seated in your 'cruising' position. This is needed to shape the seat to you. We realize riders move around, so we add width where it is needed most. Adding width at the front when you're seated toward the back will create pressure points, often on the sciatic nerve. We avoid that. Don't use tape or marker on the cover to mark your position, unless of course the cover is junk. Adhesive from tape will attack the vinyl. The 'cruising position' is the position you'd sit at while on a 10 mile straight away. Tailbone bothered: If you have discomfort in the tailbone area, then we can relieve dense foam in that area, marked by the area mentioned above. Usually this is only needed if you have a past injury or sensitive tailbone to begin with. Added width, softer foam, and other mods we already do eliminate the discomfort for those without tailbone issues. Let us know if it is overly bothersome. Passenger: If you haul a passenger, we can add extra width at the back, no charge. Lowered seats can affect passenger comfort, so let us know how often they ride with you as indicated on the form. We recommend added height if they ride with you often. Slope/Angle Change: If your seat feels like it is forcing/sliding you forward, then you may want to re-slope your seat. We remove height from the back to fix the slope. How much, is up to you. In most cases, a 1/2" drop at the back of your seating are is enough. A proper sloped seat will set nearly level with the rider(s) aboard collapsing the suspension. Use cover provided: Check 'yes' if you want us to add trim to your provided cover and make it fit the new seat shape. This option adds no fee. Select a vinyl trim you'd like. Other vinyls are available. If your cover is beyond repair, we will not use it. Check 'no' if you would like a custom cover installed. Let us know if you'd like the provided cover returned. Vinyl explanations below. Return shipping: UPS Ground is usually $20-$40 to most states. USPS Ground is typically double. UPS Priority for nearby states used to be as low as $10, but no longer. UPS is the most reliable and deliver on time. USPS Priority is best for shipping outside the country ($60-$90). Other notes below. Payment: Payment is made once we have the seat. Prices are shown on the order form. We can quote a price if we have the order form info in advance.

Never

send credit card information via email. If you choose to pay through Paypal, we will send you an invoice to the provided email address. It can be paid with an account or credit card. Checks may delay an order as they will have to clear. Please provide payment information in advance if we won't be able to contact you, due to vacation, work, etc. Otherwise, a delay may occur.
---
My seat is uncomfortable. How can you improve it? The main key to gain comfort is width. Second, the right foam density will help alleviate pressure points. A custom built seat will add these two characteristics while shaped to fit your riding position and riding style. 150+ mile days are no task for our seat. How do I get a custom seat? Ship us your seat to be customized or buy a complete seat. We need an order form as well. Email us in advance if you have any questions. What is your turn around with the seat? 2 weeks. Then it is shipped to the return address on the order form. Do not ship us your seat if you have a tight deadline.

2021 anomaly 5+ month turn-around currently 1/1/22

Do you sell complete seats? Yes. We sell 2008 and newer KTM seats for models between 125cc and 530cc. We also sell complete seats for the GasGas, Husqvarna, Honda, and every other brand. We sometimes have other seat models in inventory to build off of. If your seat is not in our inventory, one can be ordered for less than retail. KTM and Husqvarna complete seats add $100+ to the build, while other brands add $150+. Ask us for a price quote if you want a second seat. Is my seat customizable even though it is not shown on your site? Yes. We can build a seat for any make and model of motorcycle as long as it has a seat pan and foam. Order form pricing is set for dirt bike and dual sport style flat top seats. Other styles of seat may be priced different. How much is my seat going to cost? Seat cost may vary, along with shipping. For many seats, shipping your OEM seat to us to be modified does save money. Prices are shown on the order form. Here is an example:
Product
Description
Price
2018 KTM 500 EXC
10" wide, stock height, medium foam
499.99
Custom Seat Cover
Bump top, Carbon side, Orange accent and thread
59.99
OEM Seat
Complete seat option. Part # 79007140000
99.99
Shipping
UPS Ground
30.20
690.17
Shipping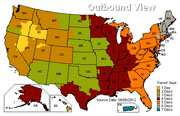 How long will my seat be gone if I provide it? We have your seat 2 weeks.

2022 anomaly 5+ month turn-around currently 1/1/22

Shipping time depends on your location and the carrier/service you pay for. UPS shipping transit time shown here in the image: How much is it to ship my seat? It will depend on your location, outside box dimensions and weight, and service you choose. So we recommend using UPS and/or USPS online calculators. Box size determines the majority of the price, so use a box 30" in length or less. Box sizes like 30"x12"x12" are large enough to fit the new seat in for return shipping and will keep the price below the balloon charge carriers add on to large boxes. If you can't find the right size box, build one. Some customers have used three 12"x12"x12" boxes and pieced them together which works well. We will put the new Fisher seat in one of our boxes ($3) for return shipping if the original box is damaged or increases shipping substantially. USPS is less expensive to ship to us from the East coast, especially Parcel Post. Unless you are shipping through a business UPS provides discounts to. Average return UPS shipping is around $40. UPS and FedEx prices doubled in 2015, and USPS Ground (Parcel Post) doubled the following year. Seats to Eastern States can ship for around $40 UPS Ground. Just let us know if which option you choose on the form. How should I package my seat? Use the smallest box possible to save $. A plastic bag over the seat, bubble wrap, air cushions, packaging paper, packaging peanuts, and even newspaper will help protect the seat. Note that paper is heavier than plastic with air. Suzuki DR 200, 350, and 650 seats have large mounting brackets which should be removed for shipping. The seat can then be shipped in a smaller less expensive box and avoid any damage to the bracket(s). If you wish to leave the brackets on, then make sure they are padded enough to keep them from protruding through the cardboard. If you are shipping multiple seats, make sure each cover is protected from the others' mounting brackets to avoid damage. When I click
for a complete seat, shipping is expensive. Are there other shipping options available? Yes. The price quoted through Paypal isn't always the least expensive. We can often times get better rates for both UPS and USPS. Email for a quote. We would need credit card payment via phone vs Paypal.
Foam
How wide should I have my seat built? The width is up to you. To some riders, it is a balance between comfort and aesthetics. Others strictly want comfort for longer distances. We recommend a 10" wide seat for riders who sit down the majority of the time. Even more width provides more support and comfort. Riders who stand up a lot, like some of us here, want at least 10" in width too. It doesn't affect stand up riding if built right. The width is felt behind the legs, but doesn't impede movement (unless you plan on racing across some supercross whoops while seated on the rear fender). One test is to place a sturdy hardcover book on top of your seat and sit on it. Try different widths and it will show you the differences in support. Feel the edges of the book and see if that is enough support. You will notice a 1" difference, especially on a seat over several miles. Will you build me a step seat? We can build a step seat (two-up). However, they require more precise details on how it is to be built. Step seats limit movement, so we aren't fans. We do understand that some seats are originally designed this way. Some seat pan molds limit how the foam can be shaped, like plastic rises for example. These seats are best discussed prior to shipping us your seat to ensure we can build what you envision. Step seats normally require a new cover as well with drastic modification, which is often priced higher than our standard wide seat cover. Do you build other seats besides wide seats? Yes. These are custom seats after all. We started originally removing sections of foam from the factory seat and replacing it with better foam. We found that width is needed for prolonged comfort though. So we can keep stock width equipped with better foam if wanted, just not advised for most seats less than 10" wide. We also build low/tall seats for riders who only require a height change. These mods are considerably less in price. Do you modify the seat base? No. The seat base/pan remains stock. All our modification is done with foam only. We can however straighten and reattach brackets if yours are damaged, since it's easier to do with the foam off. We also modify some pans if requested - shorter, longer, remove humps, etc. Do you modify aftermarket seats? Yes, but we prefer stock seats to build off of. The stock foam will almost always provide a better base for support. Other aftermarket seat foam may have additional fees if there is additional foam work needed, like a gel seat for example. Certain foams are better than others to use, so just let us know what you have in advance. Do you build gel seats? No. If you sat on one of our seats and then a gel seat, you'd know why. We prefer not to modify them either. Stock seats are a better starter to build upon. Will you ship me the foam so I can build the seat myself? No. These are not kits. These are custom built seats. They take a long time to build and is not easily duplicated. Where do you measure the width of the seat? We measure the top of the seat at the widest point. The bottom of the seat remains the same width. Do you build dished seats (bowl shaped with higher edges, cruiser style)? No. We build flat top seats. Other shapes limit mobility and would complicate covers making them more expensive. Dished seats are best for remaining in one fixed position, whereas on a dirtbike or dual sport, you want mobility. With that said, we do build custom cruiser and street style seats, but they are typically reserved for local customers due to the complexity of the modification. Do you need my seat foam? Yes. We need at the very least, the seat pan and foam. For some really old models where OEM foam is difficult to find, we can build a seat without foam provided. It will raise the price substantially though. We can build complete seats as well for most models. Cost can increase $100+.
Seat Covers
How does each vinyl shown on the order form compare?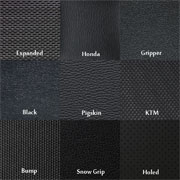 Carbon Fiber - Black color, stamped with a carbon fiber pattern. Adds a slight amount of grip over our plain black. Used for trim on stock covers and custom covers. Our most popular custom cover design is a carbon top and accent with black sides, example. Black - A smooth black with a marblesque pattern. The most popular for trimming stock covers. Texture matches certain years of Honda vinyl. Pigskin - Has a similar grip like the carbon fiber, yet slightly thicker. Feels a lot like a football, just not as rigid. A better top than trim. Comes in more than black. Bump - Raised uniform texture with a decent grip for dirt. Slightly thicker than others and thus somewhat more durable. Great for tops. KLX/KTM - Currently unavailable. Though we do have a similar texture with a bit more gloss. Its predecessor is identical to KLX250s seat covers and a very close match to '04-'16 KTM covers as well. Decent grip. Honda - A similar grip to the Carbon Fiber. A more flat texture than the Pigskin which cleans easier. Looks like certain years of CRF and XR vinyl. Gripper - Our most aggressive vinyl with a raised texture. Feels like rubber sand paper. Looks like rubber asphalt. Not recommended for riders ...............who want to move around on the seat easily. Soft Grip - More stretch than any other vinyl (besides snow vinyls). Thin, but durable, so the top foam is felt with ease. Has a lot of grip on soft seats, especially when clean. Attracts dust since it has a slight 'tacky' feel. Not recommended for trim. Snow Grip - Maximize grip in the cold. Most beneficial for snowbike riders who play in the powder. Much less ice build up and powder wipes off more easily. Not recommended for dirt. Gator - One of the more stylish vinyls. Comes in more than black. Has a raised texture and grip is similar to Pigskin. A fine grip for dual sports with soft or medium foam. Also a great side vinyl if you prefer a different grip on top. *All the above vinyls are black in color and any will match with plain black. Other combinations tend to not match as well. Expanded - Looks similar to expanded metal. Good amount of grip, which can be run side to side or front to back. Dark grey (charcoal) in color. Most of your custom seat covers I've noticed have two vinyls, why? It is more aesthetically pleasing to have the contrast with two or more vinyls. It is recommended along with our accent, but not mandatory. Do you need my seat cover? Only if you want to use the cover on the new custom seat. If your seat cover is missing or already taken off, then there is no need to send it if you plan on having us make a custom cover for it. Will you make me a leather seat cover? No. It doesn't wear or hold up to weather as well as our marine grade vinyls. We would be doing you a disservice - worse wear, shorter lifespan, doesn't clean as well, and much more expensive. Suede leather is cooler than black vinyl in the sun, but so is a lighter colored vinyl. Not worth it. My seat cover is old and worn; can it be used for the modified seat? As long as the cover is not torn, rotten, or brittle due to sun damage or chemical spill (ex. gasoline). Some seat covers with small cuts or tears can still be used as long as the damage is near the bottom edge of the seat. This may limit width however. Will my stock seat cover limit any modification that could otherwise be done? Perhaps. As a general rule, the measurement from bottom edge to bottom edge measured across the top is the maximum width that can be built with a stock cover. This measurement near the tailbone position is most critical. What vinyl colors and patterns do you have? We have a huge amount of choices available, too many to list. However, only so many are inventoried and some will need to be ordered. Something as wild as vinyl snake skin can be used. Just ask if you have a thought, these are custom seats. Matching colors is best done if we have a sample color to match to. You can provide anything in the box to match to - pen cap, paper, material, etc. Photos via email don't work all that well since our monitors won't be set the same. Special vinyl orders will often delay the return of the seat and will increase price depending on the rush and material. Unfortunately, most OEM vinyls are made specifically for the manufacturer and we can't get our hands on the material. Can I get logos on my seat? Yes, but it will delay our week return as the screen printing is done via third party. It is expensive. Logos on the side don't tend to display well on a wide seat with a narrow base pan. We can not print brand logos that are trademarked. Modifying OEM covers with logos already is acceptable. Will you use materials I provide? Yes, as long as they are quality materials. We may have our two cents though as some materials out there are not motorcycle seat cover worthy. Keep in mind that our covers are priced primarily on labor costs and we buy vinyls in bulk; so don't go shopping for material if you're trying to save a dollar or two. Will you use an aftermarket cover I provide? Yes, as long as it fits the seat. Though, we're likely not going to use a competitor's branded seat cover. My dirtbike seat has gripper vinyl, can I get that on my wide seat? We don't offer vinyl with a lot of grip. It is overkill on a wide seat that has more surface area (friction) and a softer top to hold you in place already. Vinyls like KTM uses, among other manufacturers, is plenty of grip in our opinion. Too much grip will cause your pants to bunch up and also contribute to the dreaded monkey butt. Can I get a custom seat cover for my stock seat? Yes. It will depend if we have the seat cover patterned or not. You will have your choice of vinyl. Price is normally $59.99 shipped. The custom seat cover for our wide comfort seats are discounted with the build at the same $59.99. How do I clean and take care of my seat cover? This advice goes for any vinyl, not just ours. Do not use harsh chemicals to clean your seat. Armor All® for example will ruin your vinyl. It first becomes slick, then brittle over time. It works great on plastics and other items it recommends on the label, just not vinyl. We've been in the upholstery business for over 30 years, so we've seen the damage chemicals can cause. Water and a mild soap is a safe combination. The best vinyl and plastic cleaner we've been using is Malco. We prefer to rinse the residue off once cleaned. Avoid gas spills, and wipe it off if you do spill. Our vinyls are UV resistant, but the sun will harden and fade any material over time. So if you have a garage, use it.
General FAQ
Do you offer buddy discounts? We do offer discounts on multiple seats (2 seat minimum) shipped together in the same box (both directions), -$50/seat. You can try the same approach that many new customers use, which is the guinea pig out of the group testing their seat first. Or, save money with the discounts and shipping both ways. Either way, you will love the seat. Note the shipping Q&A above for multiple seats.